Clarkstown North began its first year of WISE presentations on May 23rd, presentations that set the bar high for all those to follow. Two WISE students, Jadyn K and Kathleen S, used WISE to explore the professions they anticipate pursuing and both found the experience to be illuminating, exhilarating and thought-provoking. Just as WISE internships are meant to be.
Jadyn had a personal reason for her interest in occupational therapy, having been enrolled, herself, in occupational therapy back in elementary school. Back then she had worked with school occupational therapist Megan Natale, so she embarked on her project with some already well-established connections, including Ms. Natale who not only agreed to be Jadyn's 'Outside' WISE OT mentor but brought her right into her classroom. Coming in to observe the field as it is practiced in elementary school from a completely new perspective, she was able to see the unvarnished realities of the profession. While she found working with first graders who were so 'impressionable' to be wonderful, she discovered that working with fifth graders was considerably less so. She became aware of the impact that IEPs (Individual Educational Plans) had for each student and also of the considerable amount of paper work that comes with being an Occupational Therapist.
During her presentation, Jadyn was able to engage her audience in several activities involving putty and pop beads, activities that are used with elementary school students to develop fine motor skills. She also talked about the educational requirements that lie ahead of her on her path to becoming an occupational therapist. Part of her research was devoted to looking into those requirements, including New York State's OT license requirement and she also made it her business to acquaint herself with professional literature in the field by reading the journal of the American Occupational Therapy Association.
Jadyn came out of her WISE experience all the more focused and looking forward to the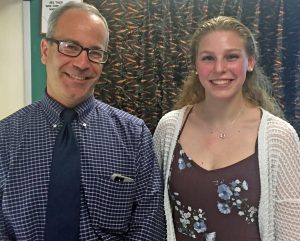 years of preparation ahead of her. She expressed her gratitude to WISE, which enabled her to have this experience, and to all those who supported her through it, including her mentor, social studies teacher and chairperson, Jordan Turner (pictured here with Jadyn) as well as WISE English teacher, Susan Phalen, and Joe Harley, Clarkstown North's WISE Coordinator.
Kathleen S also went into WISE knowing what she wanted to do in the future – be a pediatric nurse. To that end, she volunteered at Nyack Hospital, a volunteer position that soon morphed into something of an internship. But that took some doing. Having expressed an interest in pediatric nursing, she was placed in the Mother/Baby unit. Sounds ideal, doesn't it? But it wasn't – she found herself strictly limited to clerical work. But she met this first challenge and learned to advocate for herself, 'using my voice' to get transferred from that unit to the Pediatric Emergency Room where she was allowed to shadow an RN, Lauren, on her rounds. Shadowing eventually turned into something more as she was given tasks to fulfill to assist Lauren in her work.
Every day turned out to be a completely new experience because of the variety of cases that entered the hospital with emergency needs. She was also able to go on a field trip to Blythedale Children's Hospital, which turned out to be an 'eye-opening experience'.
Not only did Kathleen end up loving the ER but she was able to convey some of what she had learned to her audience by posing them an assessment scenario. She presented seven different case scenarios and asked the audience to rank each as first, second, third, etc., in terms of treatment needs, based upon the critical medical situation presented in each case. It was an effective strategy that brought across both the urgency and wide variety of cases that she had seen during her time in the ER. WISE truly prepared her well to begin her studies in college as she goes on to become an RN.
Kathleen (centre right)  with Kathleen's mentor, Bryan Smith, guidance counselor (left), Susan Phalen, WISE English teacher at North(centre left) and Clarkstown North's WISE Coordinator, Joe Harley (far right).