Hyung Gun, or Chris (his 'American' name) Kim, Rockland Country Day School, class of 2015, came to the United States from his home in Seoul, South Korea, for the sort of education he could never have gotten at home, an education that he hoped would prepare him for entry into an American university.  Sure enough, he was exposed to classes where classroom participation and independent thinking
were not simply encouraged but essential and to academic and arts electives that he would never have encountered at home. Of course, that was what he and his parents had expected. What he didn't expect was WISE – the opportunity to immerse himself in just about anything he wanted to explore in his senior year and earn academic credit for it.  "This is something I would never have had the chance to do at home," he said. Or at a lot of schools in the United States for that matter!
Pursuing Your Passion –AND Connecting That with Future Realities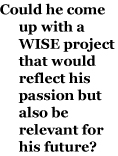 Chris had always loved music more than just about anything else…but he was headed towards a career in business. Could he come up with a WISE project that would reflect his passion but also be relevant for his future? That was the question he wrestled with when, at the end of his junior year, he was asked to come up with a topic for WISE. Unsure, he decided to just go ahead and make an album – with music — songs — written and performed by him. And to connect it with his interest in business – to market it, sell it and donate any proceeds from the sales to charity.
AP Subjects No Obstacle for WISE Students                                                                  So senior year he got busy, after getting those pesky college applications out of the way, and divided his time up between his busy school schedule (replete with five full credit academic courses, including three AP subjects, and four arts electives) and his WISE project. The hardest part? Remaining consistently on target. Much as he loved music, devoting the number of hours necessary to get the songs ready and recorded, for months on end, proved to be a bit of a drag. A fun hobby turned into a burden…. that idea took some getting used to.
But he persevered. WISE gave him the chance to try something he loved and exposed him to the realities of that something. He worked seemingly endless long and lonely hours by himself. He worked with his mentor (a music teacher who was also a professional musician) and with other professional musicians, on his songwriting and performing skills. He took his music and performed it, publicly, in New York City. He worked in a professional recording studio, perhaps the best part of all, recording his songs, a process he describes as being very exciting (a dream come true), very frustrating (it often went wrong) and very satisfying (when after many takes, it finally went right!).
Learning from Setbacks – and Going On All the Stronger for Them: The Essential WISE  Experience
As in all WISE journeys, Chris learned from his setbacks. It was, his mentor noted, a rollercoaster of a journey because he encountered problems that he had never anticipated. But he stuck with it and ended up with an amazing journey, one beautifully documented in his journal and in his presentation. He did not solve all of the problems he encountered, his mentor added, but he found many elegant solutions nonetheless, both in his musical understanding and in his personal development.
Taking WISE with You to College and Beyond
As for the future, well, he plans to keep on doing music. WISE taught him that following your passions even when that gets difficult is worth the struggle. So he has been taking courses in music at UC Berkeley where he recently completed his freshman year. He is playing music with friends. He continues to perform. And while he is still planning on a business career, and on an economics major, he is thinking about combining his interest in music and business and going into the music industry. If he does so, he will have WISE to thank… he will be doing so with a good understanding of what it's all about.