Off to a Good Start
Saugerties High School's WISE program, coordinated by Alison Brennan and Denyse Ortlieb, is one that really seems to get on track early and accurately. A few months ago, at the end of November, we reported on the list of tentative projects that WISE students had come up with. Well, apparently, those students were off and running, because on March 1, they were able to do a project sharing workshop with the WISE task force — and, lo and behold, the projects were ultimately the same, but now fleshed out and fully operational.
Project Sharing                                                                                                              Alison Brennan coordinated the workshop for the students, task force members and community coordinator, Andy Lutz. The students were able to share some of the experiences they have had so far: exciting moments, exciting insights, exciting prospects and, of course, the inevitable obstacles and challenges that are also an integral part of every WISE project. Excitement can be c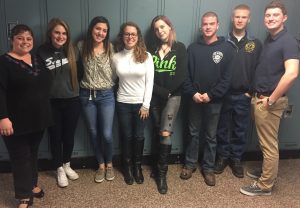 ontagious, so students were able to tap into each other's accomplishments and find inspiration to carry along into their own projects. Equally significant, identifying and articulating the difficulties one encounters not only helps the individual deal with those problems but elicits sympathetic and helpful suggestions from the others in the group, all this early enough to make a significant difference in the WISE process.
Saugerties Projects for 2017                                                      
Maddie A is pursuing her interest in stroke patients and care providers, by interviewing patients and learning about physical and occupational therapy.
Jacob J is exploring the Veterans Administration healthcare system and its impact on veterans within it. He will be interviewing veterans, on the receiving end, and people who work with veterans as well.
Krystal J is studying tattoo artistry and has been able to interview a number of interesting people in that field, both those who have gotten tattoos and those, owners of tattoo parlors, who practice the art.
Peter J was considering exploring either the Marine Corps or diesel mechanics, and ended up opting for diesel mechanics: not just studying the field but pursuing certification as a diesel mechanic.
Mia P is investigating occupational therapy, with a special interest in OT targeted at children. She has plans for on-site work that she is in the process of setting up and will be interviewing occupational therapists who work in the school district.
Madison P's focus is on optometry; she is learning a huge amount on the subject from shadowing an optometrist who is showing her the ropes.
Nick S has made fire-fighting his project, as a volunteer with the Saugerties Volunteer Fire Department. He will be interviewing fire fighters from Kingston, NY, as well as the fire chief from Stone Ridge, NY, who did a similar project 15 years ago at Rondout Valley..
All in all, a busy, productive project sharing session for the Saugerties crew. Congratulations to all of you, and to your fearless leaders, teachers Alison Brennan and Denyse Ortlieb (Denyse, unfortunately, was unable to be part of the project sharing workshop but is a busy member of the day-to-day WISE experience).