It was back in the spring of 2015 that Rondout Valley High School student Samantha Z, then only a sophomore, was invited to collaborate in the production of another WISE presentation,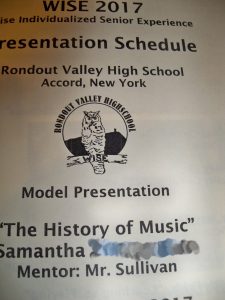 a rock opera. The experience proved invaluable and inspirational, and Samantha came out of it knowing one thing: she could hardly wait for her own WISE project.
She had plenty of time to figure out what she wanted to do and first settled on writing a novel. But something about music kept pulling her back. Within the first month of her senior year WISE program, she switched to music, a subject that has fascinated her ever since she began playing the clarinet and singing in choral groups from elementary school on up into the present.
So committed was she that she began journaling well before the WISE kickoff. Her mentor: her longtime Spanish teacher, Señor James Sullivan, not just a linguist but a musician in his own right as well as a student of musical genres.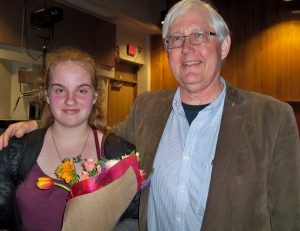 It's not hard to see why Samantha was chosen to give the model presentation. She met all the requirements: ahead of the game from the very beginning, she was organized, disciplined and enthusiastic and the perfect person to show other seniors, and juniors coming along the pike, not only just what a WISE project is all about but what exceptional work WISE students like Samantha put into their projects and the equally exceptional results of that work.
The result: a trip through musical history. WISE Community Consultant Andy Lutz described Samantha's journal as reading 'like a music critic's article' as she went from page to page, explaining the different periods of musical history throughout Western Civilization's history.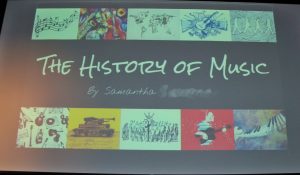 And her presentation?  She took the audience through each time period, with musical clips interspersed to illustrate just what she was talking about. Before long, members of the audience found themselves humming alongside the various classical pieces she played. The presentation culminated with the question and answer session, in which Samantha responded eagerly and knowledgeably to all questions from those in attendance, and, of course, the evaluation session during which Samantha listened carefully to the comments of the assessors.  It was, all in all, a tour de force and, as Andy Lutz commented, a fitting gift to all in attendance, providing inspiration to all.
Now we look forward to the rest of the WISE season and all the remaining Rondout presentations!